Ana María Martínez Announced as 22nd Annual Gala Honoree
November 1, 2019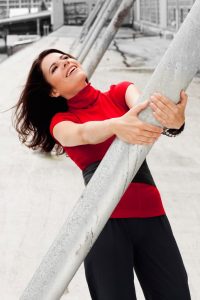 The St. Anne School Foundation is honored to announce that Grammy Award® winner Ana María Martínez will be the 2020 Gala, "Music of the Night," honoree.  Ms. Martínez is considered to be one of the foremost sopranos of her time, with an international career that spans the world's most important opera houses and concert halls. She performs regularly at Lyric Opera of Chicago, The Metropolitan Opera, The Los Angeles Opera, Houston Grand Opera and Santa Fe Opera, as well as with the Royal Opera House Covent Garden, Bayerische Staatsoper, Vienna Staatsoper, Glyndebourne Festival, and Opera National de Paris. Her busy concert schedule includes solo concerts, recitals, and performances alongside both Plácido Domingo and Andrea Bocelli. Highlights of her 2019-20 season include portraying the role of Cio-Cio San in Madama Butterfly with Opera National de Paris, Lyric Opera of Chicago and The Metropolitan Opera.
In addition to a full calendar of performances, she has recently taken on two new exciting roles that expand her presence offstage, including joining Houston Grand Opera as their first-ever Artistic Advisor as well as Rice University's Shepherd School of Music as Artist-in-Residence for the 2019-20 and 2020-21 academic years.
The 22nd annual St. Anne School Foundation Gala will be held at River Oaks Country Club on April 18, 2020. For information and how to purchase tickets or sponsorships, please contact Lisa Jakel, ljakel@stannefoundation.org or visit www.saintannegala.org.
Generations of Faith
May 17, 2019
The St. Anne School Foundation is pleased to announce that they have pledged $1,000,000 to the Generations of Faith Capital Campaign.  This gift will be used to build a new school gym for generations of St. Anne students to come.
2019 GALA WRAP-UP: A FANTASTIC NIGHT UNDER THE BIG TOP
April 25, 2019
Thank you St. Anne Community for your great response to the 2019 Gala held on Saturday, February 9 at the Marriott Marquis. It was an entertaining evening of fun, fellowship, and fundraising for the benefit of St. Anne Catholic School!
2017 GALA WRAP-UP: THE ST. ANNE COMMUNITY SAILED HOME THE BEST GALA EVER!
March 28, 2017
Thank you St. Anne Community for your great response for the 2017 Gala! Saturday, February 11 at the Marriott Marquis was an amazing evening of fun, fellowship and fundraising to benefit St. Anne Catholic School! All previous Gala fundraising records were exceeded! Read the wrap-up here.
TRIPP CARTER TO BE HONORED BY ST. ANNE SCHOOL FOUNDATION AT FEBRUARY 2017 GALA
December 12, 2016
The Board of Trustees of the St. Anne School Foundation named Michael "Tripp" Carter as honoree for the 19th Annual Gala benefiting St. Anne Catholic School. With the theme Escape to Paradise: Let Your Dreams Set Sail, the black-tie event is schedule to be held February 11, 2017 at the new Marriott Marquis in downtown Houston. More details…
OFFICERS ELECTED FOR 2016-2017 ST. ANNE SCHOOL FOUNDATION BOARD OF TRUSTEES
December 12, 2016
The Board of Trustees of the St. Anne School Foundation elected officers for 2016-2017 at its annual meeting in August. Newly elected officers are: David Holt, president; Tim McConn, vice president; Crystal Maxwell, treasurer; and Brian Welch, secretary. More details…